The Intelligent Tape Library for Enterprise Archive, Disaster Recovery, and Long-Term Data Retention
Protecting and retaining your data can be challenging. Keeping pace with fast, unpredictable data growth in a cost- and time-efficient manner pushes IT staff to their limits. Ensuring that data is secure and available over long periods of time adds to these challenges. The Scalar® i6000 tape library was designed to solve these problems and simplify your environment.
The i6000 scales up to 180PB of data, supporting large enterprise storage environments. Capacity-on-Demand offers fast, flexible, and non-disruptive growth, easing the difficulties of managing dynamic storage requirements. Quantum customers experience significant management time savings due to the intelligent and proactive features in iLayer™ management software, up to 75% savings compared to other libraries. High availability features like Dual Robot and Path Failover allow the library to continue to operate despite failures of library components or even failures within the SAN fabric. The Extended Data Life Management feature (EDLM) ensures your archived media is trouble-free so the data is available when you need it. Security features like FIPS-compliant encryption key management safeguard your data while in the library and after export.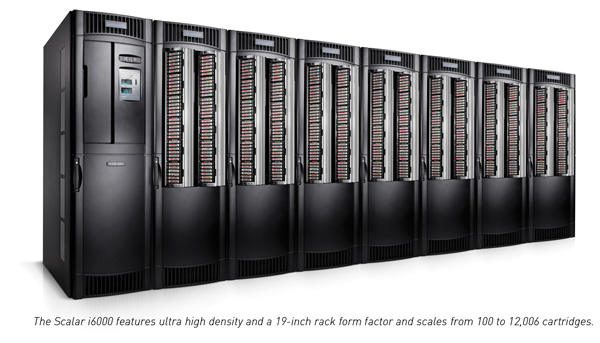 ---
Features + Benefits
iLayer Intelligent Software
Intelligent software automates administrative tasks, reducing administrative time up to 75% compared to other tape library products.
Active/Active Dual Robots
Adds a second robot to the library for high availability and faster performance. Operations continue in the event of a robot failure. Robot service is non-disruptive to the application.
Extended Data Life Management (EDLM)
Exclusive iLayer feature to ensure availability of your data placed in long-term storage/archive/DR. Integrates with StorNext® Storage Manager to automate protection of archived data.
Active Vault
Archive tapes inside the library to minimize costs and cartridge handling while improving security and access to vaulted content.
High-Density Expansion Module
Can store almost 12.5PB* in a single 19-inch rack without compromising cartridge access performance. Provides non-disruptive bulk loading, fast independent cartridge scan/inventory.
Advanced Reporting
Media, drive and security reports improve understanding of library utilization and performance. Automated report scheduling and distribution save time.
Path Failover
Control path and data path failover features ensure library system stays operational and accessible even with a SAN fabric failure.
Consolidation
Library capacity, high availability features, and partitioning support tape and library consolidation, delivering significant ROI.
Smart Bulk Cartridge Imports/Exports
The largest import/export capability in the industry, coupled with exclusive auto-import and export-redirect features, significantly reduces cartridge load/unload time.
Modular Architecture with Continuous Robotics
Provides flexible scalability in a standard 19" rack form factor without sacrificing reliability.
Capacity-on-Demand Growth
Simplifies storage growth by scaling quickly, easily and without disruption.
Quantum Vision® Management Software Support
Reduces management time in multiple-device environments and integrates easily with Quantum disk backup solutions.
Scalar Key Manager Support
FIPS-validated solution makes it easy to manage keys, mitigating risk of lost data.
Scalar LTFS Appliance
is available to present tapes as NAS storage, enabling new ways to manage and access archive files.